"Doo Wop Motels:
Architectural Treasures of The Wildwoods"
by Kirk Hastings
128-page Paperback with 130 color photos!
7¼" x 9⅛"
$19.95
Available at Amazon.com – BarnesandNoble.com and all better book stores
A fun, full-color look at the 1950s and 1960s
commercial architecture of The Wildwoods — particularly its motels — and focusing on its various forms: Modern with jet-age glass walls and angled
roof designs; Vroom! with its thrusting pointed elements; and Polynesian Pop, with thatched roofs,
tiki torches, and plastic palm trees. And of course those great neon signs!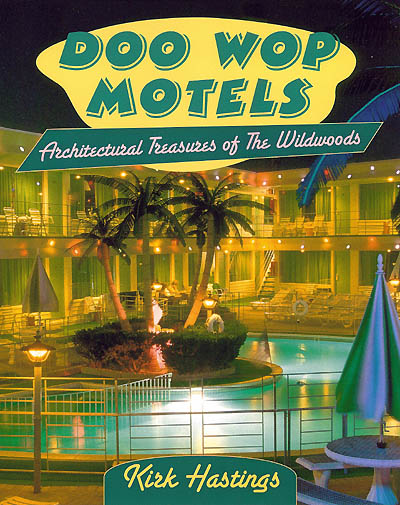 "The perfect summer read under a plastic palm"
— Carolyn Travis
 Producer, Wildwood Days (2004 PBS documentary)